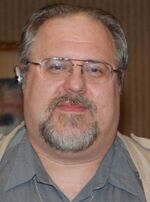 David Mark Weber (born in Cleveland, Ohio on Earth in 1952) is an American science fiction and fantasy author and the creator of the Safehold Series.
In college, he studied History, Politics, English Literature, Comparing Religious Studies and Sociology. He soon found Military History to be his main interest. Weber currently lives in Greenville, South Carolina.
Many of his novels and short stories have military, particularly naval, themes, and fit into the military science fiction genre. He challenges current gender roles in the military by assuming that a gender-neutral military service will exist in the future, and by frequently placing female leading characters in what have previously been seen as traditionally male roles, he has explored the challenges faced by women in both military and politics.
His most popular and enduring character is Honor Harrington, the main protagonist of the Honorverse series of novels, short stories and games.
Community content is available under
CC-BY-SA
unless otherwise noted.