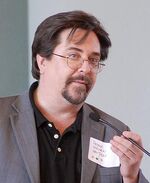 Patrick James Nielsen Hayden (born January 2, 1959 in Lansing, Michigan) is an American science fiction editor, fanzine publisher, essayist, reviewer, anthologist, teacher and blogger.
He is a World Fantasy Award and Hugo Award winner (with nine nominations for the latter award), and is a Senior Editor and the Manager of Science Fiction at Tor Books. He changed his last name to "Nielsen Hayden" on his marriage to Teresa Nielsen (now Teresa Nielsen Hayden) in 1979.
Nielsen Hayden is the editor of the three current volumes of the Safehold Series, Off Armageddon Reef, By Schism Rent Asunder, and By Heresies Distressed.
External links
Edit