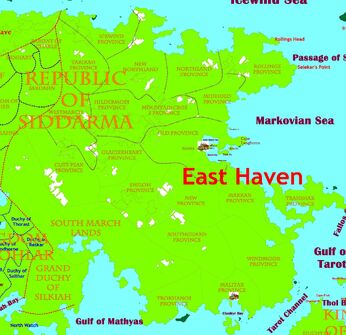 The
Republic of Siddarmark
was a
Safeholdian
nation on the east coast of the continent of
East Haven
. In the 890s the Republic was roughly four hundred years old, founded by
Ludovyc Urwyn
.
Population
Edit
Prior to the Civil War, the Republic had a popultation of 129,500,000 citizens, making it one of the largest nations in terms of both size and popultation. (MTAT)
Geography
Edit
The Republic stretched along the east coast of East Haven, bordering with the Temple Lands, the Kingdom of Dohlar, and the Grand Duchy of Silkiah.[1] It was devided into a number of provinces. (map)
The Republic was over nine million square miles, roughly the size of the entire Old Terran continent of North America. (MTAT)
See: here for a list of known provinces of Siddarmark.
Government
Edit
The ruler of the Republic was the Lord Protector, effectively an elective dictator. (OAR)
Military
Edit
The Repulic of Siddarmark's army was widely acknowledged — with good reason — as the most effective armed force in Safehold's history, on land, at least. In sharp contrast, Siddarmark's navy was traditionally nonexistent, and the Royal Charisian Navy had reigned supreme upon Safehold's seas even before Merlin Athrawes' arrival in Tellesberg. Anyplace a Siddarmarkian pike phalanx could find a place to stand, though, it reigned supreme, which explained the Republic's successful, sustained expansion southward towards the Desnairian Empire over the hundred and fifty Safeholdian years prior to YOG 890. That expansion was halted only when the Knights of the Temple Lands guaranteed the frontiers of the Grand Duchy of Silkiah in the Treaty of Silk Town in 869. (OAR, AMF)
Siddarmark Civil War
Edit
Please see Siddarmark Civil War.
References
Edit